supported by


European Project adressing the safety
of blood transfusion
EuBIS Common Criteria for the Inspection of Blood Establishments (Manual)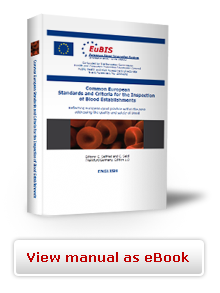 EuBIS Common Criteria for the Inspection of Blood Establishments (Manual)

The objective of this manual is to set out a methodology for inspecting blood establishments based on the European Commission's directive requirements related to ensuring the quality and safety of blood. It is the result of a collaborative effort of representatives from 27 governmental institutions, blood establishments and competent authorities participating in the EuBIS project co-funded by the European Commission. In this context, the EuBIS project is the first project that has brought together regulators and manufacturers to jointly develop criteria and standards.

The manual is aimed to assist
blood establishments in need to optimise their quality system and self-inspection process related to the EU blood directive.
blood establishments to prepare for regulatory inspections by competent authorities, and
competent authorities, which wish to use the manual and training guide as a reference for the implementation process of the European blood legislation related to regulatory inspections.
The manual is accompanied by an audit / inspection training guide to assist the inspection process. It also contains master templates of key documents used during the inspection. These documents give examples for the implementation of good practice (GP) as defined by the EU blood directives.
Disclaimer:
The content of this manual does not necessarily reflect the views of the European Commission. Neither the Commission nor any person acting on its behalf can be held responsible for any use that may be made of the information in this report.

The editors and project participants assume no responsibility for the use to which this manual is made.